Our pro tips
Preparation
Preparing The Ribs
Use paper towel to remove the white membrane beneath the ribs, or ask your butcher to do it for you.
Homemade Ready-to-Eat
Mix marinade ingredients in a resealable or airtight bag, add pork and freeze. This way you'll have ready-to-cook pork cuts on hand. Simply thaw for 24 hours in the refrigerator before use. Keeps for 3 months.
The Key to Tastier Ribs
For tastier ribs, replace cooking water with a court bouillon. Once cooked, remove ribs from the broth and coat with spices or sauce and finish cooking on the BBQ or in the oven.
It's easy to make a court bouillon: simply simmer the following ingredients for 30 minutes: 8 cups water, 1 unpeeled onion (quartered), 1 head of garlic, halved, and 2 bay leaves.
Searing Pork
Seared, well-grilled meat is a sign of flavour. Take special care to brown the meat for 2–5 minutes (depending on the size of the piece) in a hot skillet with oil. Once the meat has been seared, continue cooking according to your recipe.
How to Make Bacon-Wrapped Pork
On a work surface, first stuff your piece of pork by creating a pouch or rolling it. Then close each end of the pork, holding the stuffing in with two slices of bacon. On a work surface, line bacon slices up vertically, making sure they overlap. Place pork on top and wrap with bacon.
Thread strings under the meat so that the ends extend on either side. Thread another string horizontally to hold bacon in place. Tie pork and cut off excess string.
How to Tie A Pork Roast
Thread strings under the meat so that the ends extend on either side. Thread another string horizontally to hold everything in place. Tie pork and cut off excess string.
Stuffing Tips
For a piece of pork with a pouch: on a work surface, cut the pork horizontally lengthwise, making sure not to cut all the way through so you can create a pouch in the centre. Spread the stuffing inside the meat along its length. Close and tie with butcher twine.
For a rolled piece of pork: on a work surface, butterfly-cut your meat lengthwise so it can be rolled out (your butcher can do this for you). Spread the stuffing over the entire surface of the meat, leaving 2.5 cm (1 in.) free around the edge, then roll from the longest side and tie with butcher's twine.
Marinating for a Long Time
Large pieces of pork (such as the shoulder, boneless butt and loin) take longer to marinate. Make sure to marinate them for at least 12–24 hours for a maximum of flavour. If time is an issue, you can always use a special marinade injector to marinate the meat. Smaller pork cuts such as tenderloin, cubes and chops take 20 minutes to 4 hours.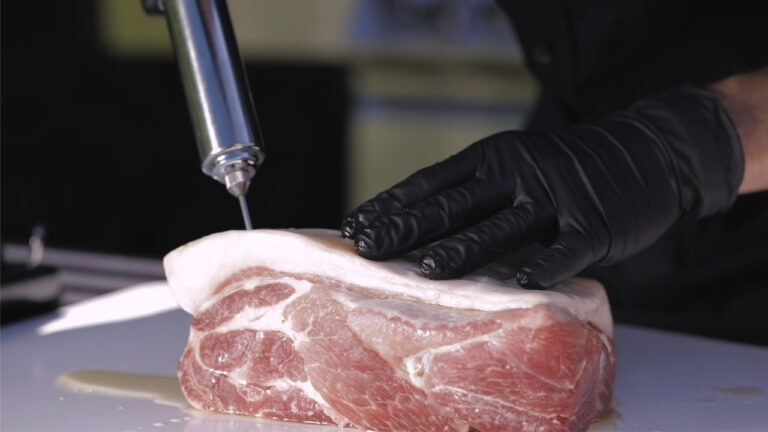 Using Dry Rubs
Dry rubs are an easy and delicious way to season pork. You can prepare and store them at room temperature. You can also buy them at the grocery store. For example, BBQ Québec and La Cage have a range of tasty products for your pork.
Benefits of Brine
Many pieces of meat can be brined in a mixture of salt, sugar and spices. A day soaking in brine allows the flavours to penetrate and soften the meat, intensifying its flavour.
The technique is simple: just bring ½ cup of water to a boil and add 1 ½ tbsp. each of sugar and salt. Remove from heat and add 1 ½ cups of ice-cold water. Place meat in an airtight container and pour in brine. Cover and refrigerate for 4–12 hours.
Cooking
How to Blanch
For sausages:

Place sausages in a pot of cold water and bring to a boil, then simmer for around 5 minutes. Drain.
For certain vegetables:

To easily peel small onions, parboil 1 minute; then rinse under cold water.
To peel tomatoes, make a shallow cross-shaped incision at the bottom of each tomato and then plunge into a pot of boiling water. Once skins start to lift, remove tomatoes from water and plunge into ice water. Peel.
Smoking With A Gas BBQ
It's easy to turn your BBQ into a smoker if you want to smoke your favourite pork pieces. Simply wrap pre-soaked wood chips in a sheet of aluminum foil and poke holes on top. Place the foil packet on the burner and let your meat smoke.
Carving Meat Properly
Cut cooked meat against the grain to make your morsels even more tender.
Planning Resting Time
As a piece of meat cooks, it contracts and juices move toward the centre. Resting meat after cooking allows juices to spread throughout the piece. When the meat is cut, juices will not come out and the meat will remain juicy and delicious. Allow 10 to 15 minutes for a roast, 5 to 10 minutes for tenderloins and 3 minutes for cutlets, chops or tournedos.
Handling Cooked Meat
Handle meat using tongs, not a kitchen or carving fork. Piercing the meat causes the juices to flow out faster, affecting taste and texture.
Roasting or Braising at Low Temperature
Bake pork roast at 120 °C (250 °F) instead of 180 °C (350 °F) to retain its cooking juices and tenderness. The tenderness and flavour more than make up for the extra cooking time.
How to use a meat thermometer
Insert the probe into the thickest part of the tenderloin, roast or rack without touching the bone, as this could distort the reading when trying to get the ideal doneness.
For more information on the different types of thermometers and their use, check out our article on the subject here: (hyperlink to be added).
When to Opt For Bone-In
Choose a piece of bone-in meat for your pot roasts and stews. The bone adds a lot of flavour during long cook times.
Resting Before Cooking
Allow meat to rest at room temperature before cooking. Why? To ensure even cooking. Allow 1 hour for a roast, 30 minutes for tenderloins and 10 minutes for chops.
Tasting
Using Leftover Pork
Avoid food waste by using leftover pork roast in a sandwich or salad.
Quebec Pork and Fruits
The delicate taste of Quebec pork blends perfectly with fruit. This sweet and savoury, smoky and fruity fusion transforms your basic fare into haute cuisine.
Making A Delicious Charcuterie Platter
Consider giving your platters a sweet touch (port wine jelly, onion jam, sweet sauce) and a dash of vinegar (mustard, pickled onions, gherkins or beets, etc.).
Storing
How to Freeze Ham
Cooked ham can be frozen for 1–2 months, but its texture won't be the same. Once thawed, it can be chopped and stored for use as an ingredient, such as in a quick stuffed zucchini or as a tasty sandwich topping.
Storing In The Freezer
Conservation time
Pork cuts
1 to 2 months
– Ham (cooked)
– Bacon
3 to 4 months
– Liver
– Cheek
– Tongue
– Tail
– Kidney
6 to 8 months
– Cutlet
– Ground pork
– Ear
8 to 10 months
– Rack
– Ribs
– Boneless butt
– Chops
– Cubes
– Shoulder
– Tenderloin
– Belly
– Jowl
– Ham knuckle
– Hock
– Flank steak
– Raw ham
– Lard
– Leg
– Loin
– Osso Buco
– Steak
Storing Bacon
How do you safely store bacon? Cook it all. What about an open pack? Raw bacon can easily go to waste, as it only keeps 3–4 days. It's best to cook everything and store pre-cooked bacon in the fridge or freezer.
Cooked bacon in the fridge: about 7 days
Cooked bacon in the freezer: about 2 months
Raw bacon in the fridge (open pack): about 3 days
Raw bacon in the fridge (unopened vacuum pack): depends on the expiry date
Raw bacon in the freezer: about 2 months

You should freeze it whole, but make sure you take it out of its original packaging. For nice raw bacon slices when thawed, place slices between sheets of parchment paper and store in a sealed bag or container.
What do you do with your remaining cooked bacon? Here are some recipes to use up your bacon during the week:
Storing In Vacuum Packs
Tenderloins, ham and other cuts of pork are also available in vacuum packs. Their shelf life corresponds to the date on the package.
Storing In The Fridge
Conservation time
Pork cuts
1 day
– Ground pork
– Kidney
Up to 2 days
– Leg
– Ear
– Liver
– Osso Buco
– Cheek
– Tongue
– Tail
2 to 3 days
– Jowl
– Flank steak
– Chops
– Cubes
– Cutlet
– Tenderloin
– Hock
– Foot
3 to 4 days
– Rack
– Ribs
– Boneless butt
– Shoulder
– Belly
– Ham knuckle
– Ham (cooked and sliced)
– Lard
– Loin
– Steak
5 to 7 days
– Ham (cooked and whole)
– Bacon
Deliciousin every way
With so many different pork cuts to choose from, there one to satisfy every taste.
Featured Cuts